The Power of a Mobile App Portfolio: Unleashing Success in the Digital Realm
Mobile apps are becoming essential tools for businesses to reach their target audience and improve their online presence in the current digital era. Businesses and app developers must now demonstrate their expertise through an extensive mobile app portfolio as the market for mobile apps continues to grow quickly. In this blog post, we'll discuss the importance of a mobile app portfolio, its advantages, and offer helpful tips on how to build a successful portfolio.
Understanding the Mobile App Portfolio
1. Creating a Portfolio of Mobile Apps
A portfolio of mobile applications created by a person, business, or organization is referred to as a mobile app portfolio. It illustrates the company's experience in app creation and highlights the variety of mobile apps they have produced. Each app's goal, features, target audience, and technologies are frequently included in the portfolio.
A mobile app portfolio for react native development services would concentrate on exhibiting the applications created with the React Native technology. With the help of the well-liked cross-platform framework React Native, programmers can create mobile apps for both the iOS and Android operating systems from a single codebase. It offers benefits including quicker development cycles, a native-like user experience, and code reuse.
The value of a carefully managed portfolio:
Numerous factors make having a carefully curated mobile app portfolio essential, especially for companies providing React Native development services.
A React Native development portfolio serves as a visual representation of a company's or a person's talents and competence in the field. It gives prospective customers confidence and displays the capability to produce high-quality mobile apps by showing successful projects.
b. Establishing credibility and trust
A carefully curated portfolio aids in establishing credibility and trust with potential customers. It gives concrete proof of prior successes and enables potential customers to gauge the caliber of work. Building a strong reputation is aided by gratifying feedback, client endorsements, and outstanding app features that are showcased in the portfolio.
c. Demonstrating adaptability
A varied portfolio shows adaptability in app development. It demonstrates the capacity to adjust to varied customer requirements by showcasing a number of apps that target various industries, functionality, and user demographics. Potential clients who are looking for developers with a wide range of talents are drawn to this adaptability.
There are a number of crucial variables to take into account for an efficient SEO strategy when it comes to setting goals for your mobile app portfolio and coordinating them with your target audience and industry in the world of react native development services.
a. Conduct rigorous keyword
Research to find pertinent and valuable keywords associated with react native development services. This will enable you to tailor your content to the search intent of your target audience.
Produce excellent, educational, and interesting material that speaks to the wants and preferences of your target market. Make sure the material flows naturally and improves the user experience by deliberately incorporating the keyword "react native development services" into it.
Include the targeted term in the on-page aspects of your website, such as meta titles, meta descriptions, headers, and URLs. This will boost your webpages' visibility in pertinent search results and make it simpler for search engines to comprehend the purpose of your websites.
Because you're concentrating on developing mobile apps, make sure your website and mobile apps are completely responsive to mobile devices. This features flexible user interfaces that adapt to different screen sizes and responsive design.
Benefits of a Mobile App Portfolio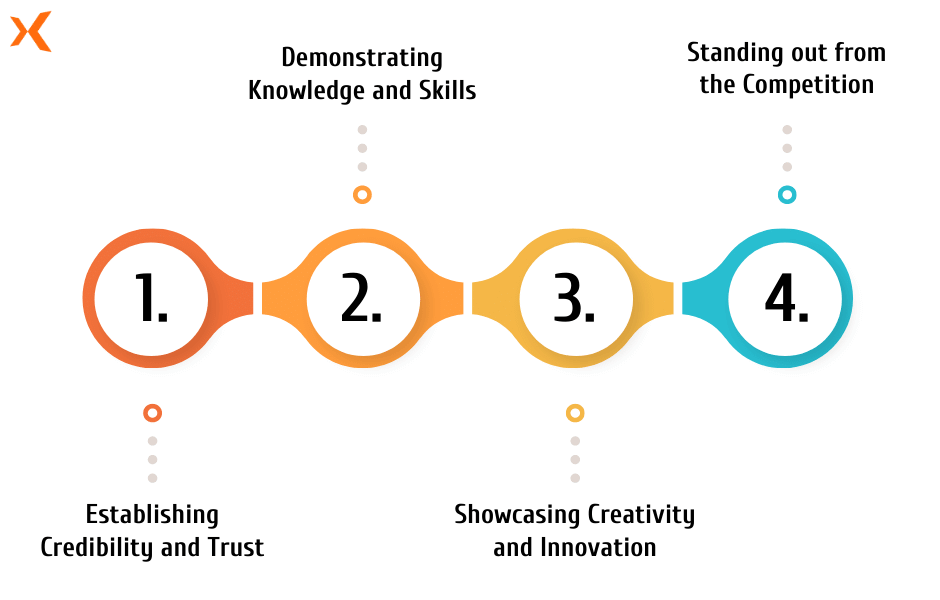 In the cutthroat world of mobile app development, a well-designed mobile app portfolio offers several advantages to companies and developers. It not only contributes to the development of credibility and trust, but it also highlights knowledge, exemplifies innovation, and sets you apart from rivals. We will examine the main benefits of owning a mobile app portfolio in this article.
1. Establishing Credibility and Trust
A mobile app portfolio has several advantages, one of which is credibility building through previous work. You may give prospective customers and investors concrete proof of your skills and track record by presenting your successful app development projects. The likelihood that potential customers will choose your services increases when they notice that you have previously provided high-quality React Native development services.
2. Demonstrating Knowledge and Skills
Your technological skills and knowledge can be displayed through a mobile app portfolio. You may show off your expertise with this particular technology by showcasing projects that make use of React Native development services. Furthermore, showing off a variety of skills through various projects in your portfolio will assist prospective clients better grasp the range of your abilities and the range of solutions you can provide. This further solidifies your standing as a competent and adaptable mobile app developer.
3. Showcasing Creativity and Innovation
In the quick-paced industry of mobile app development, originality and innovation are highly regarded. You have the chance to showcase original and cutting-edge app designs that you have created with React Native in your mobile app portfolio. You can attract clients by displaying aesthetically pleasing and user-friendly applications and proving your ability to think creatively. Additionally, demonstrating your innovative problem-solving techniques in previous work lets clients see how you may meet their needs for app development with new insights and viewpoints.
4. Standing out from the Competition
Making a name for yourself in a crowded app market is essential. A potent strategy for setting yourself apart from other developers and development firms is your portfolio of mobile apps. You demonstrate your distinct value proposition by displaying your successful React Native projects. Potential customers can see your unique selling points and reasons for picking you over the competition. This distinction may be based on your sense of style in design, your knowledge of the user experience, or particular features and functionalities you have included in your apps.
Key Elements of a Stellar Mobile App Portfolio
There are several crucial components that might have a big impact on a mobile app's marketability when it comes to building an outstanding mobile app portfolio. These factors can aid prospective clients or employers in appreciating the caliber of your work and your proficiency in offering first-rate React Native programming services.
1. Design and User Experience
It's crucial to highlight aesthetically pleasing and user-friendly interfaces in your mobile app portfolio. Showcase the projects where you used user-friendly designs to improve the user experience. This may involve giving evidence of an understanding of UX/UI principles including efficient navigation, a clear hierarchy of information, and interesting interactions. You can draw attention to yourself and demonstrate your proficiency in React Native programming by highlighting your experience developing aesthetically pleasing and user-friendly apps.
2. Functionality and Performance
Highlighting the functionality and performance of your apps is a critical component of a top-notch mobile app portfolio. Draw attention to the powerful features and functionality you have included in your projects. This may entail exhibiting applications with cutting-edge and distinctive features that make them stand out from the crowd. Additionally, to prove your adaptability and proficiency in React Native programming, illustrate how your apps run well on various platforms like iOS and Android.
3. Success Stories and Case Studies
In-depth case studies of accomplished projects can significantly improve your mobile app portfolio. Showcase crucial analytics, user comments, and app performance for projects where you have produced noteworthy results. Talk about the difficulties you encountered during the development process and how you overcome them, showcasing your adaptability and problem-solving abilities. You may provide prospective clients or employers a clear sense of the value you can contribute to their projects by presenting specific instances of your accomplishments.
4. Client Testimonials and Reviews
Using gratifying comments from pleased customers is a good technique to establish credibility and confidence in your mobile app portfolio. Include client testimonials expressing their satisfaction with your React Native programming services. Emphasize the benefits that your apps have provided to its consumers or business. These endorsements can act as social proof, proving to potential customers that you are able to produce outstanding results and that they can trust your knowledge.
Building a Strong Mobile App Portfolio
Having a strong portfolio is essential in the cutthroat industry of mobile app development to draw clients and highlight your abilities. It's crucial to use particular strategies and techniques to make sure your portfolio stands out from the competition. This post will go over four important factors to think about while creating an effective mobile app portfolio, with an emphasis on search engine optimization. Incorporating pertinent keywords and metadata, such as "React Native development services," is one of the major components of search engine optimization. These elements can help your portfolio become more visible and attract the correct kind of audience.
1. Selecting the Correct Projects
Your target market must be taken into account while choosing projects for your mobile app portfolio. The efficacy of your portfolio can be greatly impacted by how well your projects are in line with the requirements and preferences of your intended audience. Projects that are pertinent to a client's business or market niche are more likely to pique their interest.
It is also advantageous to include a variety of unique projects in your portfolio to demonstrate your adaptability and breadth of talents. This exhibits your capacity to adjust to changing client demands and work on a range of app types. Your chances of gaining new possibilities will increase if you draw clients from various industries by highlighting the variety of projects you have worked on.
2. Outlining the Process of Developing an App
Clients are not only interested in the finished product; they are also curious in how an app is developed and moves from conception to launch. Giving clients a glimpse into your strategy and techniques by including this information in your portfolio will help you build your credibility as an app developer.
The processes and technologies you use throughout development should be highlighted in particular. For instance, if you specialize in React Native development services, highlighting your knowledge of this framework can draw clients looking to develop React Native apps. You gain the trust and confidence of potential customers by demonstrating your expertise using pertinent tools and processes.
3. Making use of images and multimedia
Your portfolio's appeal and engagement can be greatly increased by adding visual and multimedia components. Include aesthetically appealing screenshots and videos that highlight the user experience, functionality, and features of your mobile apps while promoting them. This gives potential customers a visual example of your work and enables them to picture what their app might be like.
Consider making interactive demos as well to show off the functionality of your software. These prototypes, which can be downloaded or presented online, let users interact with the app and get a feel for its capabilities. Clients may remember interactive demos more because they adequately display the app's features and user experience.
4. Increasing Search Engine Visibility
It is essential to optimize your mobile app portfolio for search engines so that it reaches a larger audience. Your portfolio's exposure in search engine results can be increased by strategically incorporating pertinent keywords, such as "React Native development services," throughout it.
Consider using the following strategies when optimizing your portfolio for search engines:
Use natural keyword placement throughout your portfolio's content, including headings, descriptions, and project summaries. 

Metadata Optimization Make your portfolio pages' title tags and meta descriptions as effective as possible. 

High-Quality Content Produce interesting, educational, and high-quality content for your whole portfolio. Search engines give more weight to material that benefits users. 

Link Building Look for ways to get respected websites in the app development sector to link to your website. Your portfolio receives "votes of confidence" from backlinks.
Promoting and Sharing Your Mobile App Portfolio
Promoting and disseminating your mobile app portfolio is essential for increasing awareness and luring potential customers. Your internet visibility can be greatly improved, and the organic traffic to your website can increase, by implementing efficient SEO tactics. Here are some tactics to think about when it comes to marketing your library of mobile apps:
1. Making Use of Social Media Platforms
Showcase your mobile app portfolio on social media sites like LinkedIn, Twitter, and Instagram for great prospects. You can create interest and increase traffic to your app by communicating with your audience frequently and giving updates. Use relevant terms, such as "react native development services," in your social media profiles and posts to increase your visibility in search results.
2. Entering contests and awards for mobile applications
You may promote your portfolio to a larger audience and achieve recognition within the industry by taking part in relevant app awards and contests. When submitting your applications for awards, be sure to emphasize your proficiency in React Native development services. The attention of potential customers or investors might be greatly increased by winning an award or even by simply being nominated.
3. Working with Industry Experts and Influencers
Creating alliances with thought leaders and influencers in the field can be quite successful in promoting your mobile app portfolio. Find influencers and subject matter experts who are well-known in the field of mobile app development and who work together on joint ventures or product endorsements. These partnerships can increase your audience and give you more authority in your field. Influencers and professionals can endorse you or provide evaluations that highlight your proficiency with React Native development services.
4. Making Connections and Networking
Conferences, seminars, and trade shows offer beneficial networking possibilities. Establish contacts and market your mobile app portfolio by interacting with prospective customers, investors, and colleagues in the sector. When introducing yourself and outlining your experience, include pertinent keywords like "react native development services". Referrals, alliances, and new business prospects can all result from networking.
A strong portfolio will help you acquire clients, build trust, and separate out from the competition in the cutthroat world of mobile app development. You can build an influential mobile app portfolio that highlights your expertise, promotes success, and opens doors to new opportunities by using the ideas and advice provided in this blog post. Always keep in mind that your portfolio serves as a representation of your abilities, so put some time and thought into developing an engaging exhibition of your experience developing mobile applications.