Cost-Effective Custom WordPress Solution: Why it Rises Rental Property Website Builders for Budget-Conscious Users
An online platform or set of software known as a rental property website builder enables people or organisations to construct and edit websites that are specifically made for marketing and managing rental properties. These platforms offer a user-friendly interface with pre-designed templates and features to assist users in producing websites with a professional appearance without the need for in-depth technical expertise or coding skills.
A rental property website builder's primary function is to help landlords, real estate agents, property managers, or hosts of holiday rentals showcase their properties to potential tenants or visitors. These platforms often provide elements and capabilities catered to the requirements of the rental market, such as real estate listings, high-definition photo galleries, descriptions of the properties, amenities, availability calendars, and online reservation systems.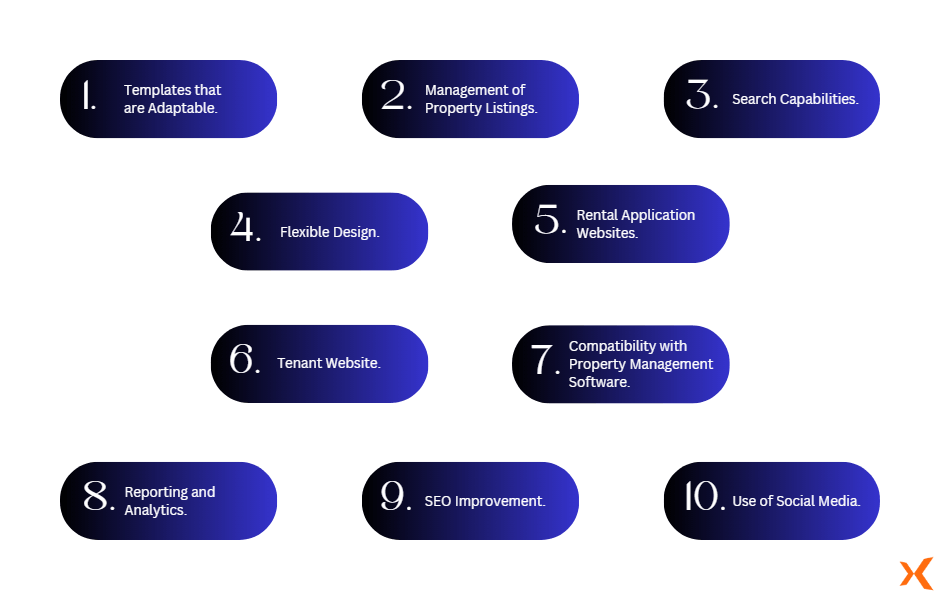 1. Templates that are Adaptable
Find a website builder that provides a selection of expert and scalable templates especially made for rental homes. This enables you to design a distinctive and eye-catching website that represents your company.
2. Management of Property Listings
Make sure the website builder has reliable solutions for handling real estate listings. This includes functions like high-quality images, in-depth descriptions, and interactive maps, as well as the simplicity with which listings may be added, edited, and removed.
Rental property websites need a powerful search function. Listings should be searchable by a variety of factors, including location, price range, property type, and amenities. The user experience can be further improved by using advanced search options, such as sorting by availability or particular features.
Your rental property website must have a responsive design that easily adjusts to various screen sizes and devices in today's mobile-driven environment. This guarantees that prospective tenants can easily access your website and browse property listings on desktop computers, cell phones, and tablets.
5. Rental Application Websites
Potential tenants can more easily submit their applications through the website thanks to an integrated online rental application tool. This can simplify things for both tenants and property managers by using digital forms, document uploads, and email notifications.
Tenants can obtain vital information about their rental property in a convenient and secure location thanks to a dedicated tenant site. This can contain leases, work orders, payment portals, and communication channels.
7. Compatibility with Property Management Software
Make sure the website builder connects effortlessly with your existing property management system if you use one. This enables effective data synchronisation between the website and your management software, including data on property availability, pricing, and tenant information.
8. Reporting and Analytics
Choose a website builder that offers in-depth reporting and analytics capabilities. This gives you the ability to monitor website traffic, visitor behaviour, lead generation, and other important indicators, assisting you in making data-driven decisions to improve your rental property business.
To increase your website's exposure in search engine results, a rental property website builder should provide integrated search engine optimization (SEO) tools. This includes adaptable meta descriptions, optimised URLs, sitemaps, and other tools that boost your website's search engine positioning and draw in more natural traffic.
You can communicate with potential tenants by integrating with well-known social media platforms and taking use of their reach. Look for tools that make it simple to share listings on social media and that let you show social media feeds or customer reviews on your website.
Remember to thoroughly compare several rental property website builders based on these attributes, taking into account your unique requirements and spending limit. To learn more about the assistance and user experience offered by the website builder, it's a good idea to read reviews and endorsements from other real estate experts.
How is a WordPress website a better option than a website builder for rental properties?
A WordPress website can offer a number of benefits that may make it a better option for some people or businesses even though rental property website builders are convenient and offer capabilities tailored to the rental industry. Here are a few explanations as to why a WordPress website would be the better choice:
1. Versatility and Individualization
Open-source content management system (CMS) WordPress offers a wide range of customization options. The look, feel, and operation of your website are entirely up to you. You can choose from tens of thousands of themes and plugins, both free and paid, to build a special website that is tailored to your individual requirements. This flexibility is especially helpful if your rental business is complicated, or you need customised features.
2. Possession and authority
You have complete ownership and control over your website and its content when you use WordPress. You are not restricted to a particular platform for building websites for rental properties, and you are free to change hosting companies or modify your website as necessary. In order to scale and be flexible over the long run, this level of control may be essential.
The search engine optimization (SEO) features of WordPress are well recognized. Yoast SEO is only one of the many SEO plugins that may help you improve your rental property website for increased search engine visibility. The technical components of SEO, such as meta tags, headers, and URL structures, are more in your control and can help you rank better in search engine results.
4. Widespread Ecosystem of Plugins
Your website's functionality can be increased by using one of the many plugins available for WordPress. There are plugins available for online payments, booking platforms, analytics, and more. With such a variety of possibilities, you can modify and improve your rental property website by adding the particular features and integrations you need.
WordPress has a sizable and vibrant community of programmers, designers, and users who support and contribute to its development. You can discover many resources, tutorials, and forums to ask the WordPress community for help if you run into any problems or have any inquiries.
WordPress is a platform that is scalable and can expand along with your rental company. No matter how many rental properties you own or how few, WordPress can manage the growth of your website and meet your changing needs.
However, it's crucial to keep in mind that compared to using a rental property website builder, setting up and maintaining a WordPress website involves more technical expertise and time. Tasks like domain registration, hosting set up, security, backups, and upgrades would fall under your purview. A rental property website builder might still be a good option if you desire a straightforward and user-friendly solution without the need for extensive customisation.
Your unique needs, level of technical proficiency, and personal tastes will ultimately determine whether you choose a WordPress website or a rental property website builder.
Several variables, like the particular features and functions you desire, the size of your rental business, and your technical proficiency, might affect the pricing comparison between a WordPress website and a rental property website builder. The possible expenses connected with each choice are broken down as follows:
1. DOMAIN NAME: Depending on the domain registrar you select, this typically costs $10 to $15 per year.
2. HOSTING: Depending on the hosting company and the package you choose; costs can range from $3 to $30+ per month. For small to medium-sized websites, shared hosting is typically the least priced choice, although managed or dedicated hosting may be more expensive.
3. THEMES: There are free WordPress themes available, but professional themes with more sophisticated functionality and customization possibilities often cost $30 to $100 or more as a one-time investment.
4. PLUGINS: The majority of plugins are free, however some premium plugins with sophisticated features can cost upwards of $200 annually.
5. CUSTOMIZATION AND DEVELOPMENT: Depending on the complexity of the project, hiring a web developer or designer can cost anywhere from a few hundred dollars to several thousand dollars if you need extensive customization or development work beyond what pre-built themes and plugins offer.
Builder of Rental Property Websites
1. SUBSCRIPTION OR MONTHLY COSTS: Website builders for rental properties typically provide tiered pricing options based on the features and assistance you need. Depending on the platform and plan you select, monthly costs can range from $10 to $100 or more.
2. CUSTOM DOMAIN: Connecting a custom domain to your website may incur an extra cost from some website builders.
3. ADDITIONAL FEATURES: Some builders provide premium connectors or add-ons for cutting-edge services like online reservation systems or payment processors. These can have an additional cost.
4. SUPPORT: Higher-tier plans could offer dedicated account managers or priority support, which might be more expensive but provide better assistance when required.
It's crucial to keep in mind that these prices are approximations and may change based on your unique needs and the providers you select. Continual costs like domain renewal, hosting fees, and prospective plugin or theme updates should also be taken into account.
Overall, a WordPress website can offer more flexibility and customization possibilities while a rental property website builder may have a more basic pricing structure with inclusive features. Depending on your choices, the expenses connected with a WordPress website might vary greatly, but it offers the opportunity for longer-term scalability and greater budget control.